We've developed Satino Liquify to ensure optimum hygiene at all times:
Liquify is our innovative range of dissolving and fast dissolving hygiene papers – an unrivalled choice for all areas with sensitive infrastructures and wherever large numbers of people come together in a confined space for a short period of time.
---
---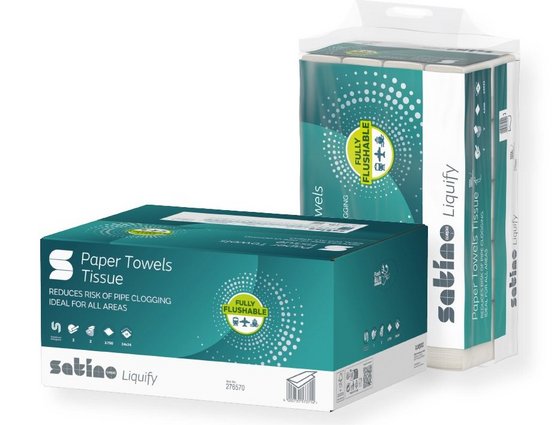 Towel paper tissue format
Satino Liquify Z-fold or V-fold
Tear-resistant, absorbent and reliable to use, and unbeatably safe even afterwards: Even if Satino Liquify paper towels are improperly disposed of in the toilet, they completely decompose on prolonged contact with water thanks to their special mix of raw materials.
2-ply quality, FSC® Mix certified
Available as Z-fold in a box or as V-fold in a practical BagPack – for optimised storage and handling
SATINO LIQUIFY Z-Fold towel paper tissue format
SATINO LIQUIFY V-fold towel paper tissue format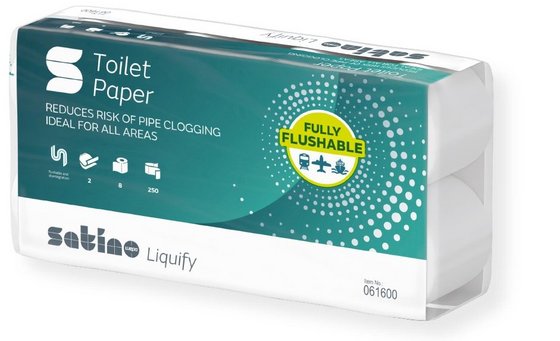 toilet paper
Satino Liquify toilet paper small rolls
Highly absorbent, pleasantly soft and as reliable as tried-and-tested recycled toilet paper, but superior due to its practical added value: Satino Liquify toilet paper decomposes extremely quickly on contact with water thanks to its intelligent manufacturing process.
2- or 3-ply
EU Ecolabel certified
---
Satino Liquify in practice
An inspiration for operators and users
People expect up-to-date hygiene, whether camping or on a business trip. This is where Satino Liquify scores, and not only in terms of quality and comfort. By ensuring the functionality of sanitation facilities, it also ensures that hygiene standards, especially with toilets, are maintained, and the risk of soiling, vandalism and misuse is reduced.
Satino Liquify
Tested and approved
Satino Liquify dissolving towel papers and fast dissolving toilet papers have been extensively tested* for application safety, dissolving behaviour and the trouble-free functioning of sensitive piping systems.
YOU CAN FIND THE RESULTS IN OUR BROCHURE