Environmentally friendly recycled paper – as premium-quality as hygiene paper made from fresh fibre.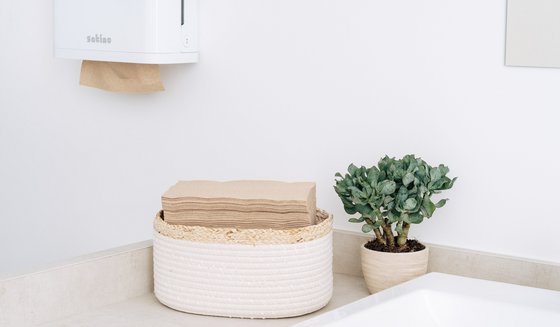 The premium hygiene paper made from recycled cardboard and cardboard packaging
Beige is the new green! Satino by WEPA presents a raw material sensation: Satino PureSoft is the first recycled hygiene paper with premium quality made from corrugated board and packaging board.
Unbleached Satino PureSoft is luxuriously soft, especially absorbent and hygienically safe in all applications ranging from towel paper and toilet paper to kitchen rolls.
70% reduced ecological footprint
Thanks to its innovative processing, Satino PureSoft from Satino by WEPA is one of the softest natural-coloured papers on the market – and just as soft and absorbent as a luxury product made from fresh cellulose. Satino PureSoft is dermatologically tested, also making it a good choice for sensitive skin.
Satino PureSoft is particularly sustainable and is produced entirely without bleaching: this not only ensures its visibly natural colouring, but also reduces its ecological footprint by an impressive 70% compared to fresh fibres.
Satino PureSoft
Our raw material innovation for the future
The first premium hygiene paper from Satino by WEPA in 100% recycled quality made from corrugated board and cardboard packaging

60% virgin plastic saving in packaging

Fast dissolving – after just 20 seconds

100% unbleached

The new gold standard in the fibre cycle